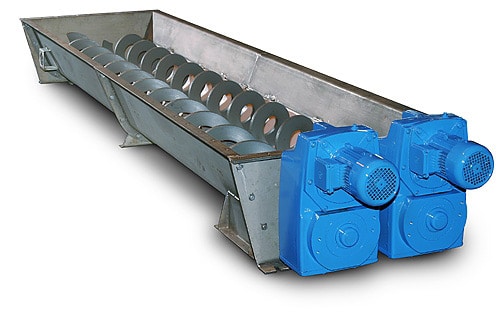 Environmental Shaftless Screw Conveyors
Dewatered residuals from environmental processes including water and wastewater treatment are ideal applications for KWS Shaftless Screw Conveyors. Wet and sticky bulk materials such as dewatered biosolids, grit and screenings are efficiently conveyed with a shaftless spiral, eliminating the need for internal bearings or a center pipe. Conveying efficiency is improved where elevation changes are required because the shaftless spiral allows for higher trough loading. The perfect solution to efficiently and reliably convey dewatered residuals are KWS Shaftless Screw Conveyors.
Engineering Guide
Industry Solutions
Advantages of Using Shaftless Screw Conveyors
Ideal for handling sticky, stringy and sluggish residuals
Improved conveying efficiency when lifting residuals compared to shafted conveyors
Allows greater flexibility for plant layout due to configurations available
Fully enclosed for vapor and odor tight construction
Internal and tail bearings are eliminated
One piece drive shafts and unique flanged spirals ensure efficient and reliable transmission of power
Wide range of materials of construction allows custom design for each application
KWS Shaftless Screw Conveyors are successfully used throughout many environmental applications associated with water and wastewater treatment.
KWS played a key role in developing CEMA standards for shaftless screw conveyors ensuring economical solutions over the whole life of the equipment. As the industry leader, KWS continues to create new and improved design standards and this work is frequently reflected in the CEMA standards.
Choosing a Screw Conveyor
Component Guide
Available Features / Options
High Strength Alloy Spirals Manufactured From a Wide Variety Of Steels Including Micro-Alloy Carbon; Abrasion Resistant and Corrosion Resistant Steels. KWS Offers a 340 BHN Spiral For Grit Applications and Duplex Steel Spirals For Highly Corrosive Environments.
Wide Variety Of Liner Materials and Special Features Including; UHMW With Special Features Including Oil Impregnation, Wear-Alert Indicator, Xylethon and Ceramic.
Liner Fastening System Allows For Easy and Rapid Removal and Replacement.
High Strength Power Transmission Design From Direct, Shaft Mounted Drive To One Piece Drive Shaft To Gusseted Coupling Plate Connection To Spiral.
Resources for Environmental Shaftless Screw Conveyors