CEMA Stock Components
KWS maintains a large inventory of CEMA stock components that are available for immediate shipment. All KWS CEMA stock components are manufactured to CEMA (Conveyor Equipment Manufacturers Association) standards and will directly interchange with stock components from other screw conveyor manufacturers.
Please contact KWS for our freight allowance policy. KWS can offer significant discounts on large stock orders and will pay the freight to your destination.
KWS CEMA stock component are available in carbon steel and 304 stainless steel construction.
Made-to-Order Solutions
Do you have an urgent need? KWS Made-to-Order Solutions are the answer! KWS provides everything from modified CEMA stock components to custom-designed screw conveyor assemblies to fit your schedule.
Learn More
---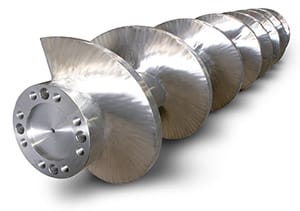 OEM Replacement Components
KWS offers very cost-effective OEM replacement components that are dimensionally exact duplicates to the original components. In many cases, we can design and manufacture the replacement components to be better than and to outlast the original components.
Learn More
---
Repairs and Rebuilds
KWS can evaluate the current condition of your equipment and offer very cost-effective solutions for repairing or rebuilding the components.
Learn More