Advances in Screw Conveyor Systems
Screw conveyors are used in many industries today. This articles looks at basic concepts, where screw conveyors are typically used and what is required to solve your application problems.
Screw conveyors have proven to be one of the most reliable and cost-effective ways for conveying bulk materials. Since Archimedes invented the screw conveyor back in 267 B.C., it has been a versatile machine that can handle a wide variety of materials, from dry and free flowing, to wet and sluggish. Today, there are well over a million screw conveyors in operation throughout the United States and the rest of the world conveying bulk materials from A to Z (Adipic Acid to Zinc Concentrate).
Where Are Screw Conveyors Used?
Screw conveyors are used to convey any type of bulk material and are found in thousands of applications. The major industries that utilize screw conveyors are:
Agriculture Production Chemicals
Food Processing
Lumber and Wood Products
Mining and Minerals Processing
Oil and Gas Extraction
Petroleum Refining
Primary Metals
Pulp and Paper
Rubber and Plastics
Stone, Glass and Concrete
Environmental
These major industries are defined by the U.S. Department of Labor and every company that produces a product or service is categorized by industry. More specific industries fall within these major industries where you'll find thousands of applications for screw conveyors. For example, portland cement production is part of the Stone, Glass and Concrete Industry. Limestone production falls under the same industry. Each major industry can have as many as 20 more specific industries that use screw conveyors in their processes. Another example is the meat and poultry processing industries, part of the Food Processing industry. Screw conveyors are used throughout the meat and poultry processing industries for conveying by-products or rendered products.
The versatility and costeffectiveness of the screw conveyor make it a perfect choice for conveying a wide variety of bulk materials.
Classifying Bulk Materials
Bulk materials are defined as goods that are handled in large quantities without the benefit of individual packaging. Bulk materials are conveyed, stored and processed to create the things we need to live, such as food products, plastics, building products, paper and thousands of finished goods.
The bulk material handling industry is an engineering field centered around the design of equipment used for transporting bulk materials. The Conveyor Equipment Manufacturers Association (CEMA), comprised of manufacturers of material handling equipment, creates industry standards for the design and safe operation of conveying equipment.
CEMA and the major screw conveyor manufacturers have studied thousands of different bulk materials to determine their characteristics. CEMA classifies bulk materials by:
Particle Size
Flowability
Density
Abrasiveness
Other Characteristics (corrosive, flammable, sticky)
CEMA provides material classification codes for most commonly conveyed bulk materials. This information is readily available to anyone who designs, specifies, manufactures or uses screw conveyors and other bulk material handling equipment. The proper design of screw conveyors is dependent upon knowing and understanding the bulk material being conveyed and the application
Detailed information about bulk materials is available through CEMA or one of the major screw conveyor manufacturers. Most major screw conveyor manufacturers have in-house experts to help design screw conveyors or other bulk material handling equipment. These in-house experts can provide knowledge of many different applications and help with the right solution.
How Does a Screw Conveyor Work?
Screw conveyors are volumetric conveying devices. Each revolution of the screw discharges a fixed volume of material. The purpose of a screw conveyor is to transfer product from one point to the next. Screw conveyors are always control fed at the inlet by another conveyor or metering device. Rotary valves, screw feeders, belt conveyors, grinders, or even other screw conveyors typically connect to the inlet of a screw conveyor. Screw feeders are similar to screw conveyors except that screw feeders are always flood loaded or 100 percent full in the inlet area. Screw feeders are designed to volumetrically meter material from a hopper, bin or silo at a controlled rate. Many screw feeders utilize adjustable speed drives to allow for varying the material flowrate.
The flowrate or capacity of a screw conveyor is measured in cubic feet per hour. If the capacity is given in lbs. per hour, tons per hour or bushels per hour, it is converted to cubic feet per hour. Since screw conveyors are control fed at the inlet, the cross-sectional trough loading is less than 100 percent. CEMA has developed standards for trough loading based on the material classification codes. For example, portland cement is described as free flowing and moderately abrasive. CEMA recommends a trough loading of no more than 30 percent. CEMA also recommends reducing the speed of the screw conveyor when conveying mildly to extremely abrasive materials. Reducing the trough loading and speed reduces the wear on the screw conveyor. This information is readily available from CEMA or one of the major screw conveyor manufacturers. The percentage of trough loading is based on the material being conveyed and if internal hanger bearings are used. Hanger bearings are located inside the conveyor and are used to support the screw. Figure 1 shows the parameters necessary for sizing a screw conveyor.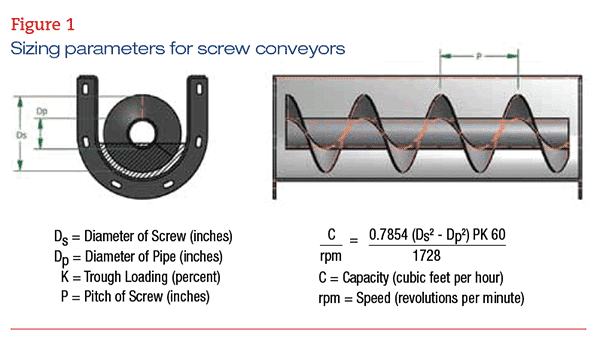 The capacity calculation takes into account the outside diameter of the screw, the outside diameter of the pipe, the pitch of the screw and the trough loading. The calculation determines the capacity in cubic feet per hour that will be conveyed with each revolution per minute of screw rotation. It is not necessary to memorize this calculation. Most CEMA-approved screw conveyor manufacturers include the capacity calculation and the CEMA guidelines as in their screw conveyor design software.
Choosing the right screw conveyor for your application requires basic knowledge of the material being conveyed as well as some basic information such as conveyor length, degree of incline and product temperature. Figure 2 is a typical screw conveyor data sheet used to help select the conveyor for an application.
Value Added Solutions
Screw conveyors are typically a cost-effective way to convey bulk materials but can become very expensive if they shut down your operations. The cost of not producing product far exceeds the cost of a screw conveyor. So it's important to have screw conveyors and other bulk material handling equipment designed to meet your needs and applications.
Many common mistakes are made in conveying bulk materials that can be solved with application experience. For example, you may be processing and conveying an abrasive product such as dried biosolids and replacing screws every three months. The cost of continued maintenance and downtime far exceeds the cost to replace screw conveyor components. As an added value, replacement screws can be constructed from abrasion-resistant materials or the screw flights and trough can be lined with ceramic tiles (see photo on page 18). The new replacement components will extend the life of the screw conveyor for up to 10 years.
Another example could occur at a chemical processing plant. Many chemicals give off hazardous or toxic vapors when being processed and conveyed. Containing the toxic vapors is important to the health and safety of the plant personnel because the vapors could ignite and cause an explosion or create health hazards. Screw conveyors can be designed to be completely vapor-tight and also to handle internal pressure. The screw would be completely enclosed in a tubular or pipe housing and special shaft seals would keep the vapors from escaping. Fully welded construction is also important to prevent any leaks. Failure is not an option when handling hazardous bulk materials. The added value of the proper design and construction of screw conveyors for hazardous applications can be calculated in millions of dollars.
How Do I Learn More?
IDC offers a comprehensive training program through IDC University. The Bulk Material Handling School is a four-day program that covers screw conveyors, bucket elevators, drag conveyors and belt conveyors. Participants learn the basics of screw conveyor design and discuss many different applications and industries. Participants gain important knowledge to help solve bulk material handling problems.
Past attendees have given an overwhelming positive response to the Bulk Material Handling School. The sessions are interactive and allow for handson demonstrations of screw conveyors in assembly and operation. Every attendee can study various bulk materials and learn about their characteristics.
Participants leave the Bulk Material Handling School with confidence and understanding of the basics of screw conveyor design and how to apply and select the right screw conveyor for their application.
Summary
Screw conveyors are a critical part of your operation. If a screw conveyor continually fails or requires excessive maintenance, it is difficult to efficiently produce a quality product. Having a basic knowledge of screw conveyor design and understanding the application will help you solve critical conveying problems. The definition of "insanity" is continuing to do things the same way and expecting different results. When selecting a manufacturer for screw conveyors, ensure that you choose one with a written quality control program and is ISO 9001-2008 certified so you know you are getting quality equipment. A quality manufacturer will also require that all welders are certified to either AWS or ASME code standards. Also make sure that you choose a manufacturer with a continuous improvement program in place to ensure that the highest standards are met and that your screw conveyors meet or exceed your expectations.
As an added value, KWS Manufacturing has the Knowledge, Workmanship and Solutions to help you solve your conveying problems and we take our status as a Preferred Supplier to IDC-USA very seriously.
---