Manually Actuated Rack and Pinion Slide Gate
Download PDF
KWS manually actuated slide gates are used to control the flow of bulk materials in a wide variety of applications. Slide gates can be found on screw conveyors at intermediate discharge points, below hoppers as cut-off valves or even as emergency shut-off gates to stop material surges.
KWS manually actuated rack and pinion slide gates use a rack and pinion gear set to move the slide plate open and closed. A 12-inch diameter hand wheel is used to provide additional leverage to operate the slide plate. The slide plate is guided by bronze-bushed rollers on the bottom and 1/2-inch thick UHMW slide plate retainers on the top. The rollers require no grease and are adjustable in order to provide years of maintenance-free service. Replacement parts are easy to find and low cost. Most replacement parts can be sourced from any local power transmission distributor.
Features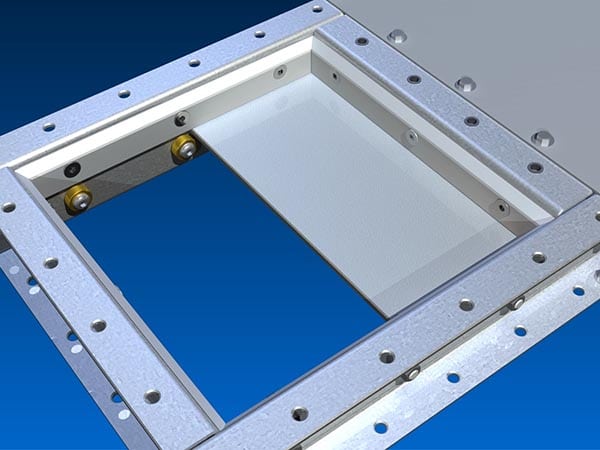 Rack and Pinion Operation – Heavy-duty, reliable rack and pinion gear set is used in thousands of applications. The gear set is made of solid steel, connected to a high strength steel shaft and can be outfitted with either a hand or chain wheel. Air lines or electrical connections are not required with manually actuated slide gates.
Heavy Duty Slide Plate – Slide plates are made from 3/16 up to 1/2-inch thick solid steel. Corners are radiused in order to prevent the slide plate from binding up when actuating open or closed. Rack is precision aligned and welded directly to the bottom of the slide plate to ensure trouble-free operation.
UHMW Retainers – 1/2-inch thick Ultra High Molecular Weight Polyurethane (UHMW) slide plate retainers are held in place with a minimum of two countersunk bolts on each side. The countersunk bolts provide for free flow of bulk materials. The top of the UHMW retainers are beveled to divert product flow around the edges of the slide plate and protect the rollers below. UHMW is used because of its durability and high release properties.
Benefits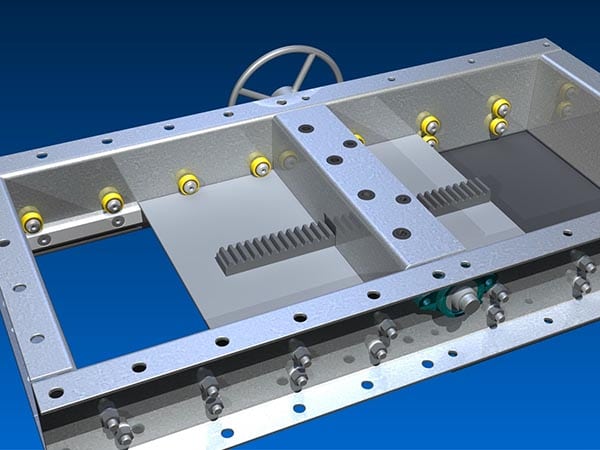 Simple Design – KWS manually actuated rack and pinion slide gates are cost-effective and very simple to install and operate. No air or electricity is required to operate the gates. Gates can be built to fit any application.
Rugged Construction – KWS manually actuated slide gates can be designed and constructed from a wide variety of materials and thicknesses. Inlet and discharge transitions can be adapted to fit any opening configuration.
Compact Design – KWS manually actuated slide gates are compact in design and will fit in almost any space with an overall height of only 6-inches.
---