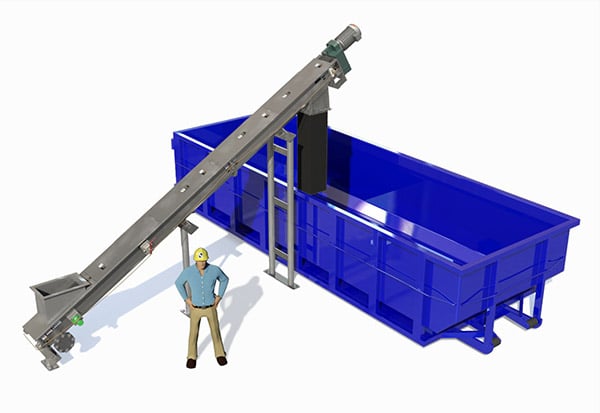 KWS Environmental Loadout System No. 1 – Single Inclined Screw Conveyor
A common application for disposal of sludge and grit/screenings is loading residuals into dumpsters or trucks for haulage to disposal. For many applications, a single inclined screw conveyor is a cost-effective and maintenance-free solution.
An inclined screw conveyor is located under the dewatering device to convey the residuals to the center of a dumpster or truck. The dumpster or truck can be moved along its length for better distribution of solids. The inclined screw conveyor can utilize multiple discharge points to aid in distributing solids.
The KWS Environmental Loadout System No. 1 is a simple and effective method of transferring residuals from only one dewatering device to a dumpster or truck. Both shafted and shaftless screw conveyors are ideal for the application.
Industry Solutions
Features
Completely Enclosed – Inclined screw conveyors are completely water and odor tight to prevent leakage during the transfer of residuals. Conveyor covers are securely fastened to prevent access to rotating components.
Robust Design and Construction – Screw conveyor components are designed with a large factor-of-safety for reliable operation. Drive units are designed for worst-case upset conditions to start the conveyor under the assumption the entire trough is packed with material, just in case a plug develops at the discharge.
Simplicity of Design – Single screw conveyor design is ideal for small plants with one or two dewatering devices. The number of moving components is minimized. Controls can be provided at a local control panel and designed to interface as necessary for control from a remote control panel or SCADA system.
Benefits
Maintenance Free for Safe Operation – Water and odor tight designs prevent leakage of residuals and odor so maintenance and housekeeping are not required. Conveyor covers are securely bolted to create a fixed enclosure so personnel do not have access to rotating components.
Reliable Operation – Simple, single screw conveyor designs ensure exceptionally long life under high load conditions. Downtime is eliminated because the screw conveyor is designed for worst case operating conditions.
Cost Effective Solution – Cost is reduced due to the minimal number of components in the system. Simple floor supports are used to eliminate the need for overhead structural steel. Controls are also simplified reducing the cost of the control system.